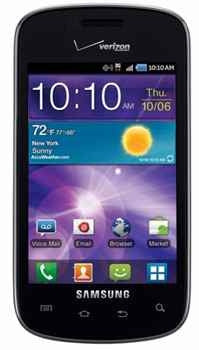 Samsung Illusion i110 Verizon Page plus Smartphone
---
---
Compatible With:
* Verizon
* Pageplus
* Verizon Pre-Paid
* Other Prepaid companies that accept Verizon cell phones
The Samsung Illusion i110 Verizon neatly designed with a nice 3.5 inch touchscreen display with a 3 megapixel camera that captures wonderful images in a breeze. This smartphone is also powered by a 1 GHz processor that enables users surf the web and play mobile games at record speed!
Features:
* Touch Screen
* 3 Megapixel Digital Camera
* GPS
* Email Access
* Internet Browser
* Bluetooth
This Offer Includes:
* Samsung Continuum i400 Verizon Cell Phone
* Clean ESN Ready To Activate
* Pre-Owned 7 or 8 out of 10 conditions - Guaranteed To Work 100%
* 30 Day Warranty
* Battery
* Battery Door Cover
* Home Charger
Attention Pageplus Customers: Unlocked For Pageplus Plans & Verizon This cell phone will work for calls, internet, and text just like any other Pageplus cell phone. no contracts required.