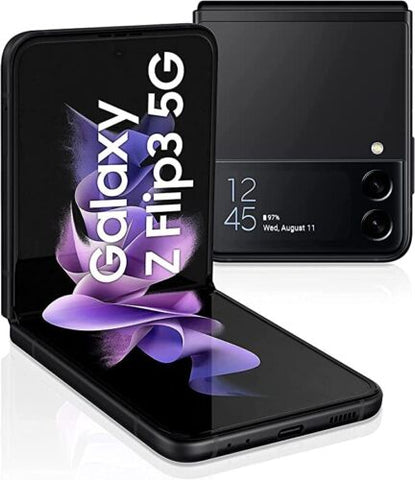 Samsung Galaxy Z FLIP 3 SM-F711U1 128GB FACTORY UNLOCK CDMA + GSM
---
---
Processor: 
Qualcomm Snapdragon 888
Chipset Model: 
Qualcomm Snapdragon 888
Lock Status: 
Factory Unlocked
SIM Card Slot: 
Dual SIM (SIM + eSIM)
Network: 
AT&T, Boost Mobile, Consumer Cellular, Metro, Mint Mobile, Page Plus Cellular, Straight Talk, T-Mobile, Total Wireless, Ultra Mobile, Unlocked, US Mobile, Verizon, TOTAL
Features: 
4K Video Recording, 8K Video Recording, Accelerometer, AMOLED Display, eSIM, Facial Recognition, Fast Charging, Fast Wireless Charging, NFC Connectivity, Speakerphone
Operating System: 
Android
Camera Resolution: 
12.0 MP
Cellular Band: 
GSM + CDMA
Model: 
Samsung Galaxy Z Flip
Connectivity: 
4G, 4G+, 5G, Bluetooth, GPS
Contract: 
Without Contract
About Us
We are cell phone distributors & sellers for over 17 Years...
Small Veteran-Owned Business
We sell thousands of phones a month to customers all over the world. As a Trusted Seller, our top priority is customer satisfaction. Not only do we provide tested and genuine devices we also offer personal, expert-level support for each one of our devices and customers. Please,

On-Site Professional Testing

Finally, we verify each device has a clean ESN / IMEI and are ready for activation upon delivery.

Fast Shipping

Every order is shipped within one business day (Ships same day if purchased before 12 pm Central Time Zone Monday-Friday) from our facility in Chicago Illinois, Since we are in the Midwest area our shipping times are usually much faster to any part of the country - (2-4 business days *estimated) 

You have the option to choose faster shipping during the checkout process...

WARRANTY
30 DAYS (RETURN FEE MAY APPLY)
WE MARK ALL OUR ITEMS AND TAKE PICTURE PROOF OF EACH IMEI WITH EACH ORDER TO PREVENT THE HIGH FRAUD RATE IN THIS INDUSTRY...