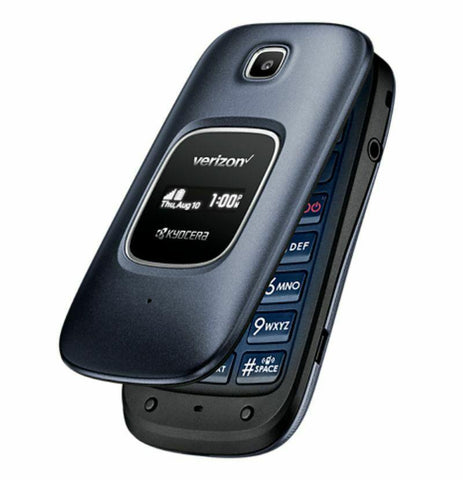 4G LTE Kyocera Cadence S2720 Verizon Basic Flip Phone 5G Compatible
---
---
Compatible With:
* Verizon 4G LTE
* PagePlus
* Verizon Pre-Paid
* Other Prepaid companies that accept Verizon cell phone

Utilize Verizon's towers for excellent coverage by purchasing a nano SIM card for activation. Designed as a replacement for outdated 3G phones, offering an ideal upgrade for seniors.

User-friendly features include backlit buttons and a clear display screen with easy-to-read icons. Enjoy custom ringtones to identify callers without checking the screen.
Hands-free operation with a convenient voice helper button for easy calling.

Solid and affordable phones that are NOT sold in stores, Buy online easily today WE SHIP FAST TO YOUR DOORSTEP.

The Kyocera Cadence is a basic flip phone that has a talk time of up to 7.2 hours and can stay on standby for up to 16.3 days. It has an internal storage of 16GB that can still be expanded up to 16GB via a micro SD card slot.

Kyocera Cadence is also WiFi ready and has a 4G LTE connection.
Other features include Bluetooth, a 1430 mAh removable battery, large and thumb-friendly keys for easy typing, and HD Voice with a dual-mic noise cancellation feature. 
Screen Size: 4 Inch
Camera Resolution:
2.0MP
Features: 3G Data Capable, 4G Data Capable, 5G Data Capable (UPGRADED FOR VERIZON TOWERS)
Bluetooth Enabled,
Camera,
Color Screen,
E-mail Access
Easy To Use
What's included in the Offer
Kyocera Cadence S2720 4G LTE
Battery 
Battery door
Wall charger
Free Home Charger ($19.99 Value)
About Us
We are cell phone distributors & sellers for over 17 Years...
Small Veteran-Owned Business
We sell thousands of phones a month to customers all over the world. As a Trusted Seller, our top priority is customer satisfaction. Not only do we provide tested and genuine devices we also offer personal, expert-level support for each one of our devices and customers. Please,

On-Site Professional Testing

Finally, we verify each device has a clean ESN / IMEI and are ready for activation upon delivery.

Fast Shipping

Every order is shipped within one business day (Ships same day if purchased before 12 pm Central Time Zone Monday-Friday) from our facility in Chicago Illinois, Since we are in the Midwest area our shipping times are usually much faster to any part of the country - (2-4 business days *estimated) 

You have the option to choose faster shipping during the checkout process...

WARRANTY
30 DAYS (RETURN FEE MAY APPLY)
WE MARK ALL OUR ITEMS AND TAKE PICTURE PROOF OF EACH IMEI WITH EACH ORDER TO PREVENT THE HIGH FRAUD RATE IN THIS INDUSTRY...